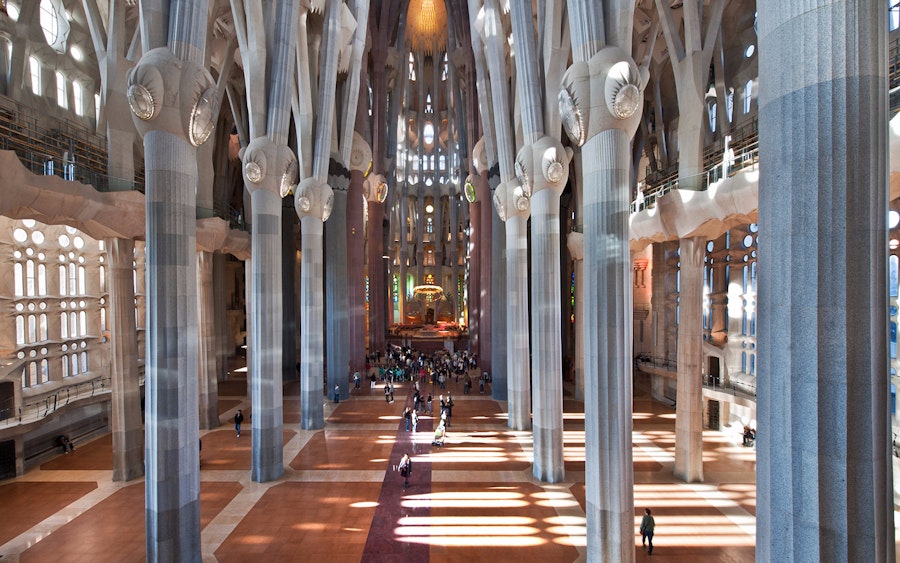 Fast Track Bilingual Guided Tour of Sagrada Familia
Variable
Popolari
Salta la fila
Con guida
Da sapere su questa attività
Why You Shouldn't Miss This
The Sagrada Familia is an iconic landmark of Barcelona, Spain. Designed by famous Catalan architect Antoni Gaudi, the Sagrada Familia is his masterpiece and draws over 2.5 million visitors a year, making it the most visited monument in Spain. A stunning example of Art Nouveau and Catalan Noucentisme architecture, the Sagrada Familia stands tall in the heart of Barcelona and is the tallest structure in the city.

The Sagrada Familia has been under construction since 1882, and with over 70% complete, it will take longer than the Great Pyramids of Giza to finish. The heavily ornate walls of the basilica, the finely sculpted figures, the intricate and mathematical structural designs and the beautiful stained glass windows of the Sagrada Familia are unparalleled in today's world. Exploring the Sagrada should definitely be a must for everyone visiting The Sagrada Familia.
Your Experience
This 1.5-hour guided tour of the Sagrada Familia is the best way to introduce yourself to the iconic Catalan landmark. Your guided tour begins at the designated meeting point near the Sagrada Familia where you will meet your tour guide.
Your tour guide will guide you past the long ticket lines straight to the brief security check and then into the Sagrada Familia. Since there is so much symbolism in each of Gaudi's creation, it is often difficult to take it all in without prior experience. Your expert guide will not only take you to the most beautiful sections of the church but also give you context and insight into Gaudi's work. You will see the Nativity and Passion Facades and understand the significance behind them. Inside the basilica, your guide will show you the extreme designs incorporated into the church's construction and the finely detailed works of the beautiful stained glass windows.

Other than the Sagrada Familia, you will also be able to visit the Sagrada Familia Museum. The museum started out as a school by Antoni Gaudi for the children of those working on the construction of the Sagrada Familia. Today, it is a museum dedicated to the basilica and to Antoni Gaudi as well. You will see drawings and plaster models made by Antoni Gaudi as well as pictures on the history and development of the Sagrada Familia.
Scopri di più
Mostra di meno
Funzioni
Culturale
85%
Turismo
85%
Collezioni
Questa esperienza è parte di queste collezioni